134,000 Steps in the City of Sails
Hola!
For six and a half glorious days during the third week of February, Auckland was graced with the presence of an American icon—no, not Bruce Springsteen or Nicholas Sparks (though I did see both of them)—it was the one and only Olivia.
Olivia and I became friends working at the headquarters of a global health nonprofit in Seattle. She's a pretty serious Bruce Springsteen fan, so when she found out he was playing in Auckland the week of her birthday, at the same time that I would be there, she promptly bought a ticket to the other side of the world. People, find yourself a friend like Olivia.
In the spirit of total candor, I did encourage her to buy the ticket, saying, "Yeah, do it! By mid-February I'll definitely have a place you can stay for free!" Just kidding, I haven't even managed to stay in one place longer than two weeks since I arrived at the end of December. I'm nowhere near as established as I had envisioned at this point, but that's how life works and I'm rolling with it.
Over the course of her six and a half day visit, we logged about 134,000 steps each. The first 47,000 of which were taken on Waiheke, an island just 35 minutes east of Auckland. We spent two days at a cute little AirBnb bungalow run by a local artist that overlooked Oneroa Bay and Little Oneroa.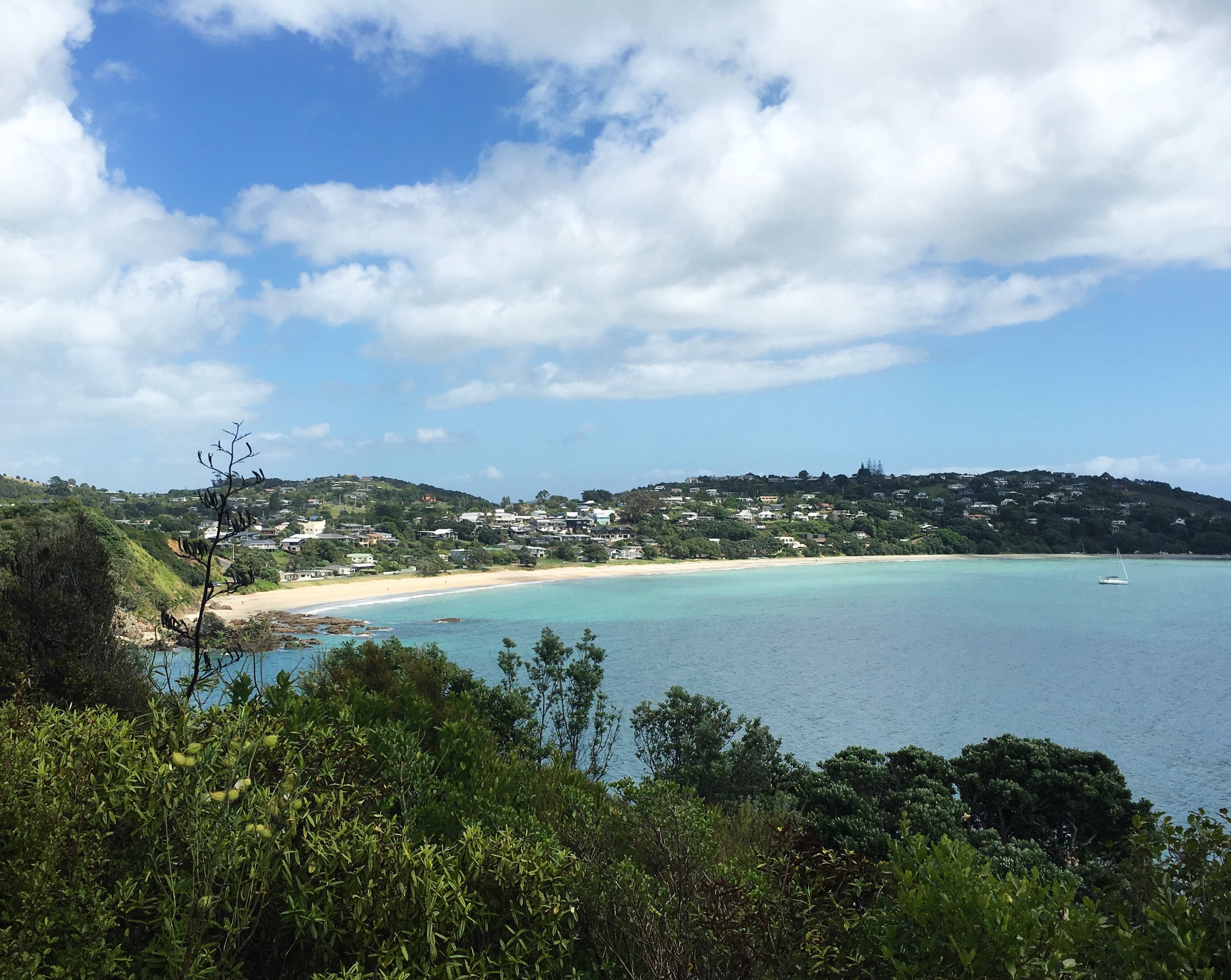 Waiheke is primarily famous for its vineyards, which are about 25 in total and reason enough to plan a trip to the island. What we didn't know was that Waiheke's beaches and views are also, to borrow from the kiwi vocabulary, "miiiiint."
Our first venture around the island took us to Little Palm Beach. Apart from the pristine beach and clear blue waters, the first thing that we noticed about Little Palm Beach was that it was full of naked old dudes. Shortly after becoming aware this was a nude beach, we realized that the lunch we packed for ourselves included a couple of bananas and a whole cucumber—it gets better though. I forgot my swiss army knife, so we couldn't even cut up our unfortunately-shaped produce. Whoops! In any case, it was a beautiful day and an afternoon neither of us will soon forget, even if we are left with a few mental images we might like to wipe from our memories…
Another Waiheke highlight was a half-day wine tour that included a tasting of the single-most perfect Pinot Gris I've ever had. If you ever make it to Waiheke do not miss Passage Rock Vineyard—it's a must-do if you're in Auckland, and I don't say that lightly. You'll find use of the term "must-do" highly infrequent on this blog, mostly because I think travel should be guided by personal passions and interests, and telling someone else that they "must do" something seems pretty presumptuous. The only things you "must do" while traveling are things that you, and you alone, want to do.
After we (with some resistance and much sadness) left Waiheke, Olivia and I spent another five glorious days in the City of Sails. I'll keep it short and sweet, here are the highlights:
Jumping off a building—talk about a quarter-life crisis.
Don't worry, mom, I didn't jump. Originally inspired by Beyonce (see this video for reference) Olivia jumped off the top of the highest structure in the Southern Hemisphere. While she was getting geared up on the ground floor, we noticed an older American dude with a pretty apparent hair-dye job and fancy camera getting ready to jump with a younger, super fit, blonde woman. I didn't take much notice, other than mentally archiving this cringeworthy dad-joke, "So, you've got a shovel down there to scrape us off the ground after?! Hahaha." (Yes, that was him laughing at his own joke.) So anyways, Olivia jumped and landed, and the guy working there told us the couple were, in his words, "I dunno, some author and blogger." Later, when Olivia was checking out the SkyJump Instagram page she gasped so loud I almost fell over. Turns out bad-hair, dad-joke, old dude was Nicholas Sparks. Yeah, that Nicholas Sparks, the author of The Notebook, A Walk to Remember, Dear John, The Last Song...and the majority of the books-turned-movies that made you cry your little eyes out over the past 15 years or so. Who would have thought a man capable of such sensitive storytelling was also capable of such awful joke-telling? Think about that next time you're watching Ryan Gosling and Rachel McAdams mack on a dock in the middle of a rainstorm.
Watching movies under the stars.
If you've never experienced an outdoor cinema on a summer's night, you're missing out. Ben & Jerry's runs a summer outdoor movie series in Australia and New Zealand called OpenAir Cinemas. They basically just pop up in an open field, park, or beach, inflate a big screen, and project a new release onto it. It's pretty much the same price as going to a theater, even cheaper if you bring your own seating, and there's just something about watching a movie under the stars with a soft breeze on your face and maybe the occasional cricket chirp in the background. At this particular pop-up, we saw Lion, which I highly recommend if you 1) Enjoy looking at Dev Patel's face, or 2) You feel like crying softly for two hours and then intensely for five minutes. In all seriousness, it's a really good film and an incredible true story.
The second movie we saw was much less emotional and definitely not based on a true story. It was The Gods Must Be Crazy, a very quirky comedy from the eighties that you kind of just have to watch if you want to understand, any attempt at summarizing the plot would leave you more confused, I assure you. That was definitely more about the experience and the setting that the film itself. This screening was part of SiloPark Weekends, which involve food trucks and markets parking it on a patch of green in a pretty industrial looking area. It's a sweet mix of art, function, and nature, which is something I think Auckland does particularly well.
Eating. Eating good food. Eating a lot of it.
Another thing Auckland does particularly well is trendy health food. We spent quite a bit of time eating in Ponsonby, which is to Auckland as Capitol Hill is to Seattle. It's the hip, up-and-coming, sometimes bougie, but overall cool neighborhood. We also ventured out to Mexico in Takapuna and Mondays Wholefoods in Kingsland.
WELL+GOOD - A stylish and modern café, if a little too aware of itself. If you can get over the bougie vibe and buy into the trendiness, get yourself a cup of Supreme coffee and a raw, vegan, coconut chocolate chia pudding. Breakfast of hipster champions.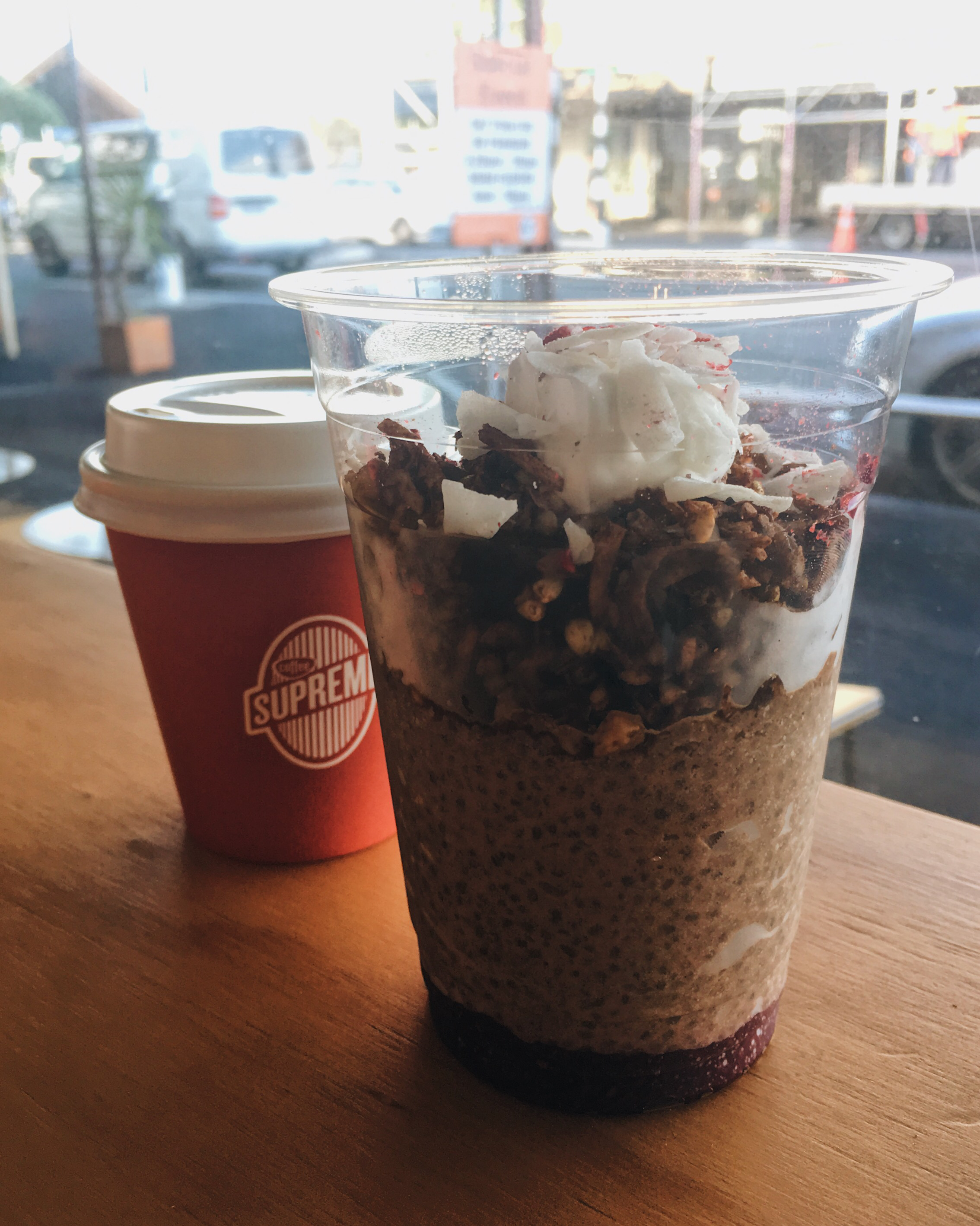 Little Bird Organics & The Unbakery - Continuing the raw/vegan eating streak, we hit up The Unbakery on a Saturday morning after a yoga class (ugh can you get anymore cliché?!) After my trip to Brazil last August I've had ordering anything but an açaí bowl if it's on the menu. This one did not disappoint, as evidenced by photos below. This place was so good that we went back a second time the next day.
Mondays Wholefoods - Another space that might be a little too hip for its own good. However the heavy stylization was forgiven because the food was delicious. Pictured below is a mezze platter complete with homemade vegan "cheese," a truly mind-bending nut-based concoction that you should try if you haven't yet. One bite will have you feeling like you just walked into a mid-90s commercial starring Fabio--but instead of "I can't believe it's not butter!" you'll be saying, "I can believe it's not dairy!"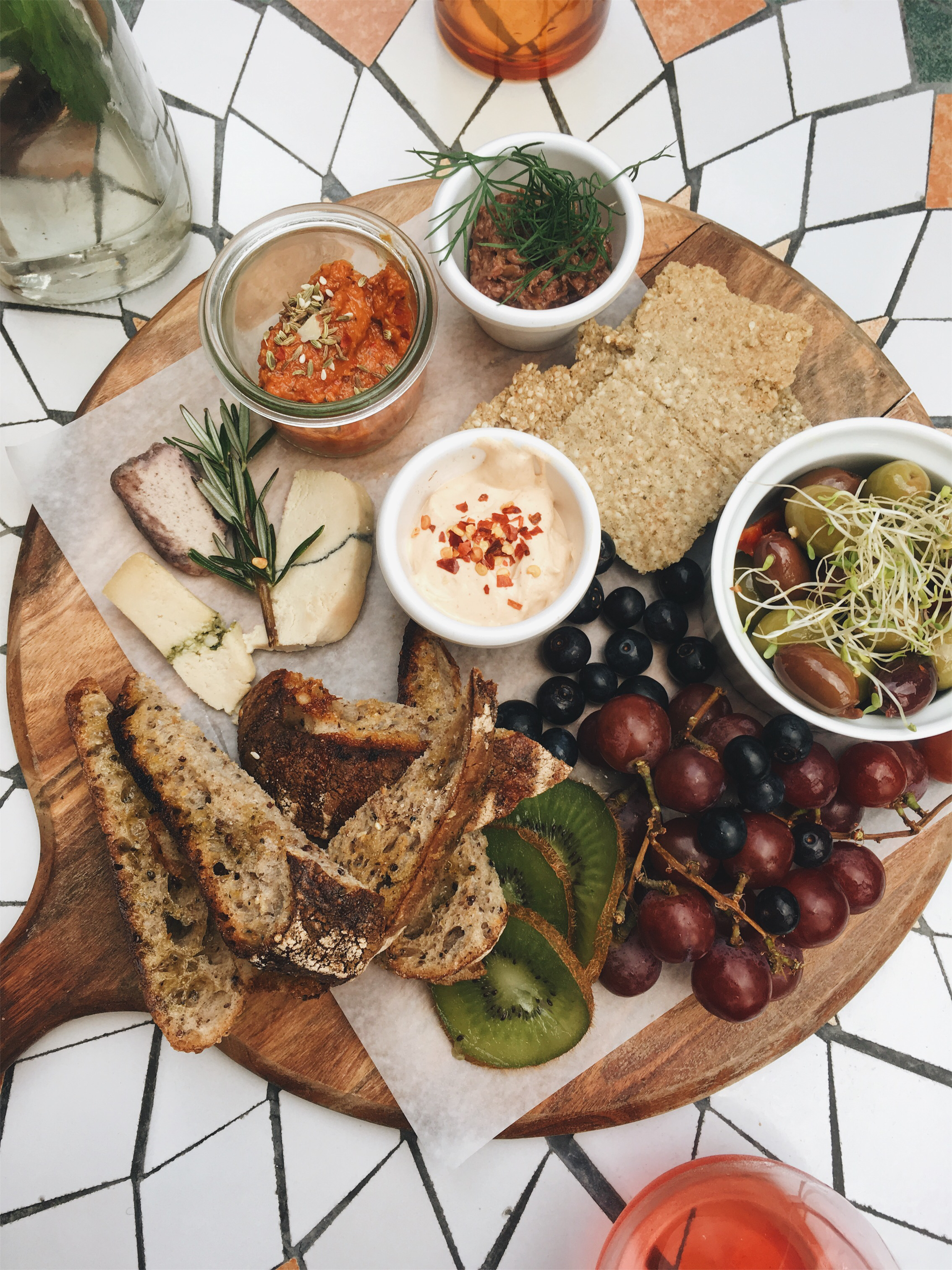 Mexico - You may or may not know (but should probably know at this point) that I can't last very long without Mexican food in my life. Luckily Auckland has a great Mexican joint imaginatively named "Mexico." I'd give the food overall a solid B-. Nothing life-changing, but certainly above average by New Zealand standards. Decór, however, earns an A in my book, which is half of the experience and not always a given when you're 7,000 miles from Mexico.
Cable Bay Vineyards - This was by far, hands down, without a doubt, the best meal Olivia and I had in Auckland, well, technically just outside of Auckland, on Waiheke. This was the mezze platter to end all mezze platters, straight from heaven. Words won't do it justice so I'll just leave you with this photo to drool over for as long as you'd like.
Throwing down some chaturangas in a dope yoga studio.
Also in tucked in a back alley a few blocks from Ponsonby Road is Urban Ashram, a yoga studio that looks like it's straight out of an Apartment Therapy feature. Anyways, it's filled with natural light, wood floors, white walls, and plant accents for days. Sorry, no photos of this one. (What do I look like, a lifestyle blogger?!)
Dancing in the dark.
This was the Grand Finale, the Big Dance, the Main Event--whatever you want to call it--the last stop Bruce Springsteen made on The River tour. The original excuse for Olivia's trip to Auckland was the cherry on top of our week of Kiwi funtimes.
And suddenly it was 6am on Sunday and I was waving goodbye to Olivia as she hopped into an uber headed for Auckland International. I spent another week exploring the city on my own, but I'll save all of the information I gathered during that week for another post of unsolicited travel advice.
For now, here's to friends that will travel 7,000 miles to visit you (and see a legendary rockstar, and jump off a building, and eat ALL the vegan food, and walk 20,000 steps a day, mostly uphill.)