Paihia Secrets
Hola!
For those of you just tuning in, after finishing up the Kiwi Experience tour with Mary I headed back up to Paihia in Northland, just about a three hour drive from Auckland. The name Paihia is comprised of two parts, and it's about as New Zealand of a name as it gets—one part Maori and one part European English. "Pai" is Maori for good, and "hia" is just the phonetic spelling of the way Kiwis say "here." Put them together and you get Paihia, the good place. (And if that information is in any way inaccurate, you can take it up with Fly the Kiwi bus driver, I did no independent research on the topic. This is a blog not a term paper, okay?!)
As I said, I spent a total of twelve days in Paihia, which basically makes me an expert on the town, and therefore qualified to provide you with unsolicited travel advice. Here goes, my list of Paihia travel tips:
1) Don't miss Urupukapuka
Easily my favorite day in the Bay of Islands was the one spent on Urupukapuka, a pest-free recreation reserve accessible from Paihia via passenger ferry or private boat. I'll give you one guess as to which transportation option I used. Yep, still looking for a friend with a yacht, so I opted for the $35 NZD round trip on the ferry.
Though I'm pretty sure the only permanent residents of Urupukapuka are sheep, there is one café on Otehei Bay, so you can grab a coffee or use the facilities as you disembark the ferry. Otehei Bay is so beautiful that it's tempting to just stay the day there, but the real magic lies in walking over the grassy hills and through the pohutukawa forest to one of several pristine beaches.
If you go on the weekend, there are a couple of return ferries that depart later than the usual weekday ferries. Definitely stay to catch the sunset at the top of the hill that overlooks Otehei Bay. And then, if you're keen, you can ruin a beautiful view by turning it into an annoying yoga photo-op. I couldn't help myself.
2) Bring a book
Maybe I just have bad luck with beach towns, but when I studied abroad in Cádiz, Spain had their worst winter in 50 years. When I arrived, Paihia was experiencing drought conditions, and by day three of my stay the drought broke and the skies opened up to dump rain every day for the next five days. Lucky for me, Hulu dropped the entire Golden Girls series on day three of rain, but you can only watch so many episodes in a row before you start to think you are actually becoming a golden girl… What I'm trying to say is I watched 12 episodes in a row, then finally resorted to reading a book. Bring a book.
3) Skip the main lookout for sunset
The Paihia sunsets were all pretty spectacular, but I found it was best to avoid the main lookout near the wharf at sunset, just way too many people trying to get an instagram-worthy snap. There's a second lookout that's a little further from the main street of town, on the South side of Paihia Beach. It's a short (though steep) walk up the hill, and you get just as great of a view as the main lookout.
4) Spend a day in Russell
To be honest, I almost didn't make it over to Russell. The town's nickname is "Romantic Russell" which seemed like reason enough to avoid it, but then I heard about Long Beach. Lord knows if there's a beach, I'll be there.
Quick side note – One of the many things I love about this country is their straightforward nomenclature. A lengthy stretch of shoreline will be aptly named "Long Beach," a rock formation with a hole through the middle of it nearby is literally called "Hole in the Rock." As my current British AirBnb host explained to me, "Yes, New Zealanders don't do frills." I can dig it.
Anyways, it turns out Russell is a charming little town populated mostly by elderly people and tourists. A relatively short walk through town and over the hill leads to Long Beach, which is a beautiful swimming spot that looks out over the Bay of Islands.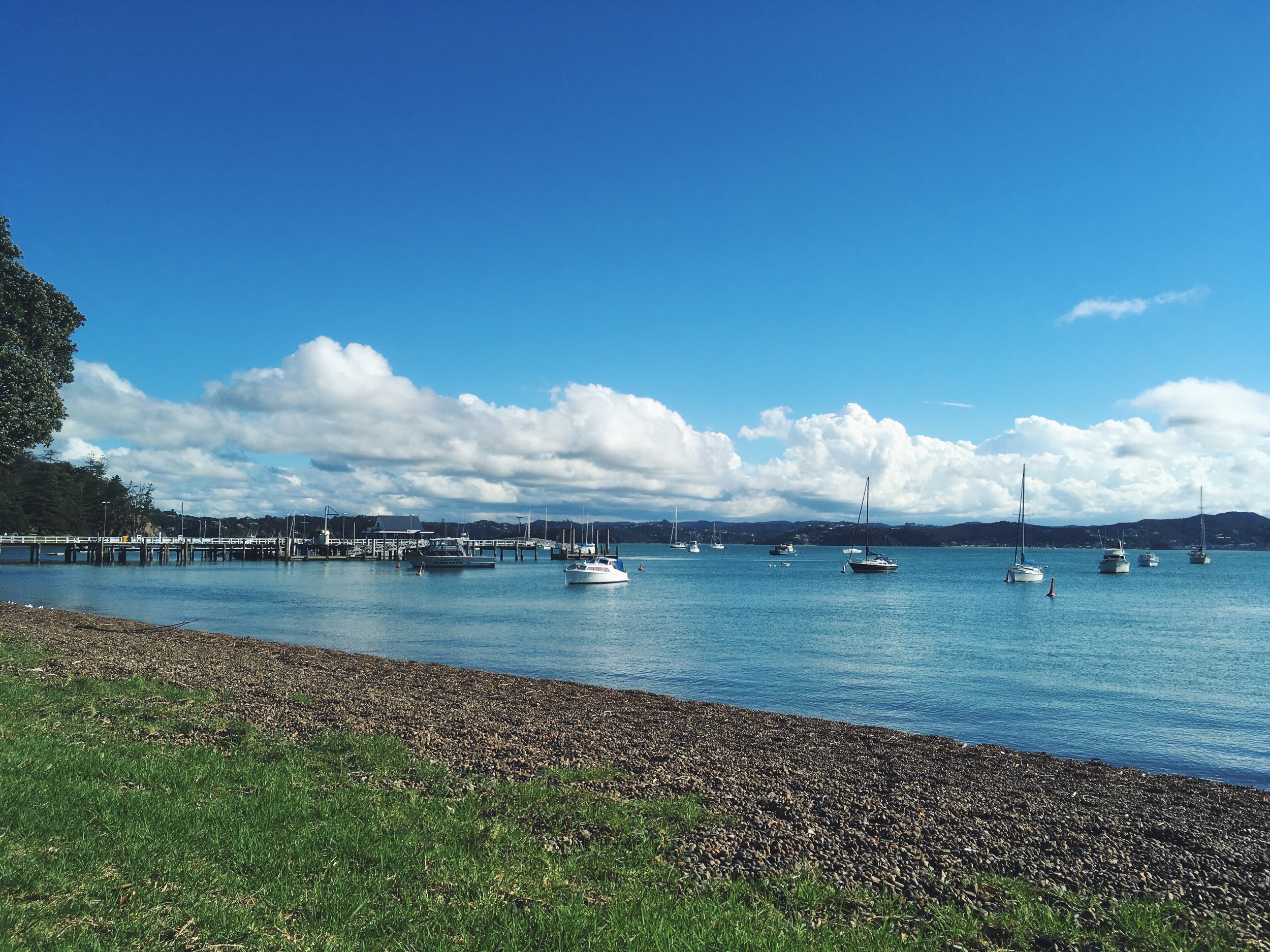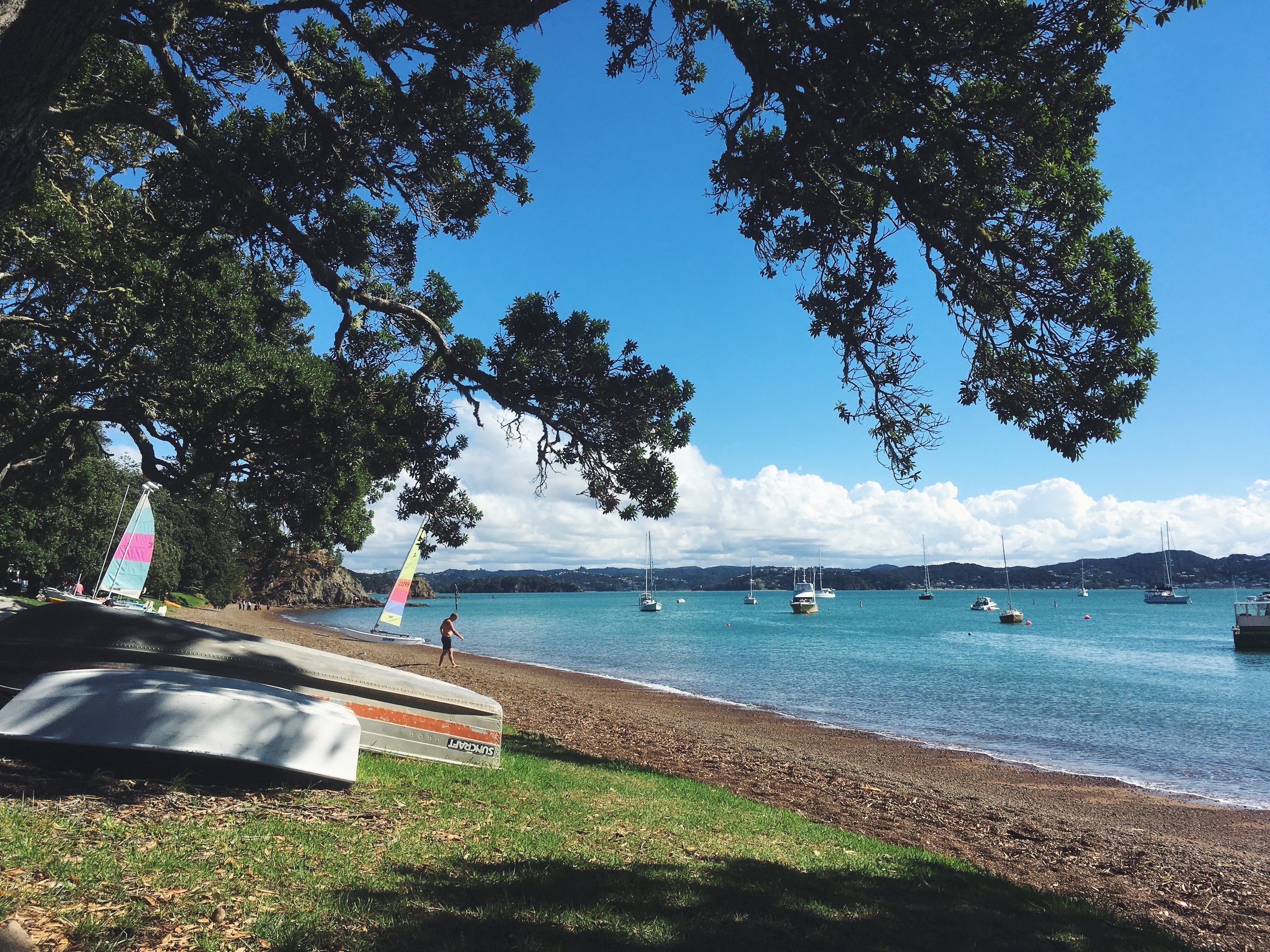 That about does it for my Paihia and Bay of Islands "expert advice." It was a great place to chill out for a couple of weeks, but I'm not sure that I'm cut out for the full-time beach town hippie lifestyle. I'm well aware of my kombucha-brewing, yoga-doing, Birkenstock-wearing hippie tendencies, but I like to balance them with the bustle of city life. I'm more of a modern, part-time hippie kind of gal.
So here's to beach towns (in small doses) and occasional stints of hippie-dom!